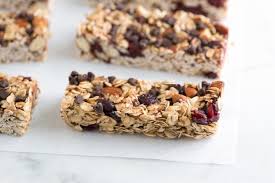 Though it may be hard to believe, summer is coming to an end and it is time for children to head back to school. It is a busy time full of excitement and perhaps a bit of sadness (it is hard to see those babies growing up)! As you get your kids ready for school, be sure to check out this back to school recipe for homemade granola bars. These bars are so easy and affordable to make. They make a great breakfast item or snack item for your child's lunchbox. Plus, they can be easily altered to suit your child's specific tastes. Give them a try! Happy beginning of the school year!
Back To School Recipe Homemade Granola Bars Ingredients:
2 1/2 cups rolled oats (make sure they are not quick oats!)
1/3 cup of honey
1/4 cup of butter
1/4 cup of brown sugar
1 teaspoon of vanilla extract
1/4 teaspoon of salt
1/2 cup of your favorite kinds of dried fruit
1/4 cup of mini chocolate chips
1/4 cup of almonds, walnuts, or pecans (this is optional)
Back To School Recipe Homemade Granola Bars Directions:
Preheat your oven to 350 degrees Fahrenheit. Get a tray and spread your rolled oats out into a thin layer. Put them in your oven for approximately 8 minutes or until they begin to get a lightly toasted appearance. After you remove your oats from the oven, you can turn the oven off and let the oats cool down. Place a pan on your stove and combine the honey, butter, brown sugar, vanilla extract, and salt. Heat and combine the ingredients over low-medium heat. Once combined, allow the mixture to cool for approximately 10 minutes. Then, stir the oats into the honey mixture. After that, mix in your chosen dried fruits and nuts. After everything has been combined, spray a cookie sheet or cover it with foil. Then, press the granola mix out onto the cookie sheet. Use parchment paper to keep your hands from getting stuck to the granola mix. Press down hard so that the granola remains stuck together. Refrigerate the pan of granola for 3 to 4 hours minimum. Then, slice your granola bars and enjoy!