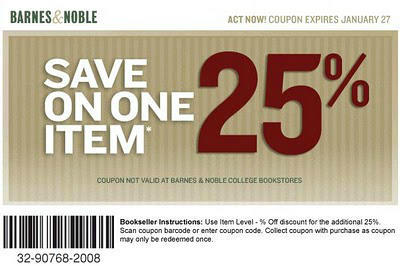 Christmas is just a few days away now! If you do not have your gifts purchased, you might want to get on that. Time is running out. If you plan to do any last minute shopping at a Barnes and Noble store, be sure to take advantage of this Barnes and Noble coupon code. Barnes and Noble coupons can be hard to come by, and this coupon could not come along at a better time!
The current Barnes and Noble printable coupon is valid from now through December 24 at close of business. This is great for all of you VERY last minute shoppers! You can get your remaining shopping done on Christmas eve and you can get a discount. How great is that? The coupon can be printed out at home and redeemed when you shop in a Barnes and Noble store. With this coupon, you can get 25% off your purchase of ONE item. There are some restrictions on the usage of this coupon. For example, you cannot use the coupon on the purchase of a gift card, the purchase of NOOK devices, Barnes and Noble memberships, some items in the toy and games department, and other items marked 'not eligible for coupons and discounts'. This coupon can only be used once per person. If you purchase multiple items, the discount will be taken off the most expensive item you purchase. This coupon will not take 25% off your entire purchase, just off one item.
You may find yourself wondering what Barnes and Noble items you can get a discount on with this coupon. Well, you can certainly save 25% on your purchase of a book, CDs, apparel, and much more. You can browse the Barnes and Noble website to get lots of last minute gift ideas for all your family members. Happy shopping!
Post Footer automatically generated by Add Post Footer Plugin for wordpress.