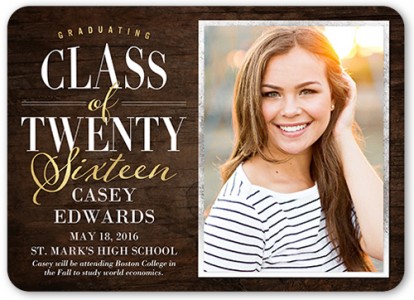 It is May, which means that college and graduate school graduations are upon us. Once June rolls around, high school graduations will be in full swing. Now is the time to check out FREE printable graduation announcements. These graduation freebies are a great way to let family and friends know that you or your child is graduating. We have gathered a list of FREE graduation invitation templates that you can customize and print out right from your home. Then, send them out to announce your exciting graduation news! This method is much more affordable than purchasing announcements from a printing company. Plus, you can get exactly what you want!
American Greetings have a variety of graduation announcements as well as graduation party invitations. They even have cards customized to the graduation year. Some cards even have the option of uploading your own personal picture.
Graduation invitations and Graduation party ideas has several different grad party invitations and announcements that you can print and fill in right from your home. There are announcements for various types of parties including open houses, college grad party, and more.
Greetings Island has a few different graduation templates to choose from. These can be customized and tailored to meet your needs.
Do It Yourself Invitations has a few invites that you can customize and print. These can be printed on nice card stock paper to make them look more like they were printed by a printing company.
Check out Evites if you want to go super cheap with your invites and announcements. There are plenty of nice and FREE e-vites to choose from. This way, you save on postage and printing supplies (ink, paper, and envelopes). Some e-vites have the option to add your own photos as well as custom content. There are several different colored e-vites to choose from.