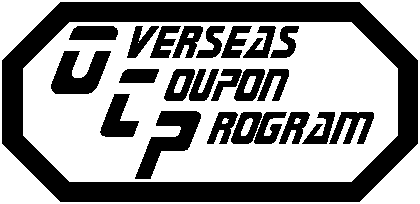 I've been hearing about donating
expired coupons for mililtary families
for a while now. After looking into it fully, I realized that donating expired coupons to military families who can use coupons up to 6 months after expiration, was a MUST do. I made the decision to adopt a military base!
I've become more aware of the need to recycle plastic, aluminum and paper and doing this just makes sense! I always have coupons left in the weekly inserts that I don't use and have leftover and expired coupons which I try to clean out of my binder often. So what to do with all these? Give them to families that can actually use them! Military families can use coupons for up to 6 monthes after the expire dates!
From their website:
The Overseas Coupon Program is a Charitable Service Program that supports Military Families Overseas. The program is not tax deductible but is still a very worthwhile cause. A service person being sent overseas will be away from their family for over a year. If the family can travel with them, that makes their time serving our country overseas more tolerable. Many bases in Europe, and Asia allow families to live there. The problem with this arrangement is that the spouse is in a foreign land without work. There are very few jobs for spouses on base so most families end up as one income families. This places a strain on their finances. In the end it helps if we provide some kind of assistance. Last year OCP provided over four million dollars in coupon assistance!
We have adopted a US Naval Air Ficility for the families stationed there in Atsugi, Japan. I chose this one because it had the least amount of donors listed on their site.
If you'd like to help out, you can check out their site and adopt a base, as well!
You can send them directly to the base using our name as the group donor to:
U.S. Naval Air Facility
Navy FSC
PSC 477 Box 32
FPO AP 96306
Thanks to anyone that helps with this! I know it is a valued and much needed service to families stationed away from home!
Post Footer automatically generated by Add Post Footer Plugin for wordpress.