I recently browsed through the internet in search of some new, budget friendly recipes. I ran across an article featured in Cosmopolitan from Little Ferraro Kitchen for a Vegetarian Pasta Fagioli dish. The recipe is a blend of canned tomatoes, white beans and red beans and of course, pasta. Without further adieu, I give you COOKING ON A BUDGET VEGETARIAN PASTA FAGIOLI.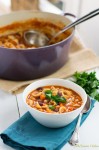 According to the Little Ferraro Kitchen blog, pasta fagioli literally means "pasta and beans." This is a great dish for a fall evening. You could easily double the ingredients for a large, family sized batch. After everyone is finished with dinner, freeze the rest to reheat at a later date. I love having large selections of soups that can be frozen and eaten later. This food makes for easy dinners or lunches when you are busy and on the go. Enjoy the food and serve it with Italian crusty bread for dipping!
Ingredients
1 onion, chopped
1 carrot, peeled and chopped
1 celery rib, chopped
1/2 teaspoon dried oregano
3 to 4 sprigs of fresh thyme, leaves removed and chopped
1 bay leaf
1 tablespoon tomato paste
2 cans white kidney beans, rinsed and drained
1 can red kidney beans, rinsed and drained
5 cups vegetable stock
1-28 oz. can crushed tomatoes
2 cups water
1 small Parmesan rind (optional)
Pinch of red pepper flakes (optional for heat)
1 1/2 cups small cut pasta, uncooked (elbows or shells)
Instructions
In a large dutch oven or pot, saute the onions, carrots and celery for 3 to 4 minutes or until vegetables begin to break down. Then add fresh thyme, red pepper and fresh oregano. Saute for another 2 minutes. Add 1 tablespoon tomato paste, and stir the mix in with the vegetables. Add bay leaf, beans, 5 cups vegetable stock, 2 cups water, the crushed tomatoes and small Parmesan rind. Cover the pot with a lid, but keep a small space open to release steam. Bring the food to a boil. Finally, reduce and simmer the food for about an hour.
About 10 minutes before serving the soup, bring the soup to medium high heat, and add your pasta in. Allow this mix to cook until pasta is fully cooked. Serve with fresh chopped parsley or basil and bread.
Do you have any great recipes that you could share with Frugal Fabulous Finds? Or maybe even budget friendly preparation tips? If you do please comment and share on the Frugal Fabulous Finds Facebook page, we would love to hear from you.