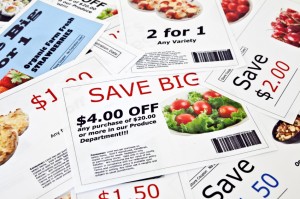 Does couponing lingo have you completely befuddled? If so, read on because we are going to explain some of those tricky and confusing abbreviations and codes found on coupons. We will cover some of the most common coupon abbreviations and acronyms found on your coupons or on couponing websites! It is extremely helpful to be able to understand the codes, especially if you want to become an extreme couponer!
Couponing lingo 101:
BOGO / B1G1- Buy one item, Get one FREE
BOGO 50%- Buy oneiItem Get one 50% off
CDB – Coupon Database
CRT – Cash Register Tape Coupon
CS- Customer Service
DND- Do Not Double
ECB- Extra Care Bucks from CVS
ETS- Excludes trial or excludes travel size
EXP- Expires
IP- Internet printed coupon
MANI- Manufacturer
MB2- Must buy two
MFG/MFR- Manufacturer coupon
MIR- Mail-in Rebate
MQ- Manufacturer's Coupon
NLA- No Longer Available
OOP- Out Of Pocket
OOS- Out Of Stock
OYNO: On Your Next Order
PG: Procter & Gamble Coupon Insert
PP: Price Plus from ShopRite
PSA: Prices Start At
Q: Coupon
R: Regional
RC: Rain Check
RP: RedPlum Insert
RR: Register Rewards (Walgreens)
SCO: Self Check Ou
SS: SmartSource Insert
SYWR: Rewards Program at Sears/Kmart
UPC: Universal Product Code
WAGS: Walgreens
WYB: When You Buy
Post Footer automatically generated by Add Post Footer Plugin for wordpress.