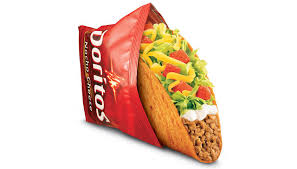 Don't Miss Out on These Doritos Locos Free Taco Bell TODAY Only!
Do you like FREE food? How about FREE tacos? If these are two things that you love, you will have to check out this awesome deal. Occasionally, Taco Bell offers FREE snacks and meals to their customers. Today is a great day if you are a taco lover! If you visit a Taco Bell today between 2:00 PM and 6:00 PM, you can get a FREE Doritos Locos Taco! You do not need a coupon or to purchase anything to get your FREE Doritos Locos taco. These tacos typically cost $1.49. The tacos are made of a Doritos taco shell and stuffed with seasoned beef, lettuce, tomatoes, cheddar cheese, and low fat sour cream. How delicious does that sound? And the price just does not get any better!
This particular freebie deal came as part of a special National Basketball Association (NBA) finals "Steal a Game, Steal a Taco" promotion. A team "stole" a win, so everyone who wants one gets a FREE taco. There are going to be a whole lot of happy people today! Please note, this deal is only available today. If you want a FREE taco, you have to get your local Taco Bell restaurant before 6:00! Be sure to check back for other Taco Bell deals in the future.