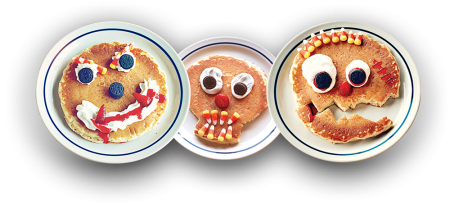 Ihop Free Pancakes
If your children like pancakes (and you like mornings when you do not have to make breakfast for everyone) you are going to love this offer! On Halloween (Monday, October 31) your children can get FREE scary faced Halloween pancakes when you dine in any IHOP restaurant between 7:00 AM and 10:00 AM. The scary faced pancakes are just as delicious as they are spooky! Your child can choose from several scary faced pancake varieties. These include 'RIP Strawberry, whose life was merry' which has mini Oreos, whipped cream, candy corn, and strawberry drizzle on top, 'Oh whipped topping, the fun's never stopping' which has candy corn, a small strawberry, whipped cream, and mini Oreos, or 'Goodbye candy corn, eaten this morn' which has candy corn, whipped cream, a little bit of strawberry drizzle, and mini Oreos. Each pancake has a different spooky look!
Please note, this freebie offer is only available to child ages 12 and under. This delicious pancake offer is limited to one per child. You can take advantage of this Halloween freebie each year, so make it a fun family tradition. Be sure to check out the IHOP website for fun Halloween themed coloring pages and pumpkin cutouts that you children will enjoy decorating.
Post Footer automatically generated by Add Post Footer Plugin for wordpress.