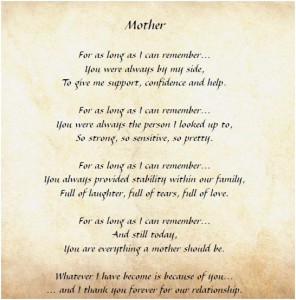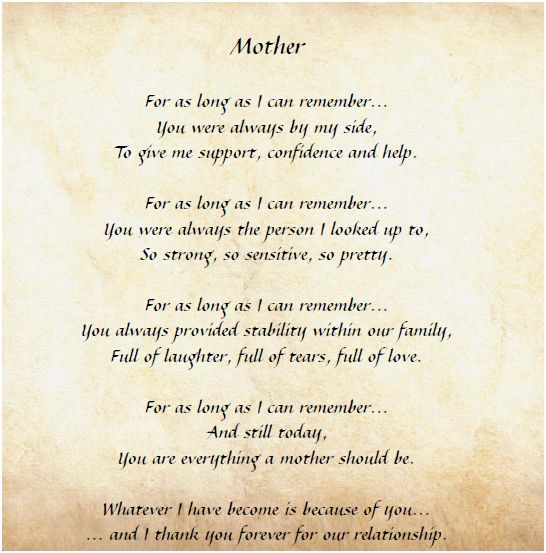 Mother's Day is just a few days away! In celebration of Mothers Day, we have decided to run a special Mothers Day poems giveaway! To enter the Mothers Day giveaway, you have to submit an original poem that you wrote yourself. You have two poem submission options: you can submit one original poem for one chance to win the giveaway OR you can share this Facebook post about the contest with your Facebook friends and submit two original poems for a greater chance at winning the giveaway. You must share the post on Facebook in order to submit your second poem (which will enter you in the drawing twice). We can tell if you share the post on Facebook when you link to us via your Facebook post. To do this, just type @FrugalFabulousFinds in the post.
Here are the guidelines for submitting your Mothers Day poems:
The poem must be at least 20 words in length and must be about your mother or a mother-figure in your life
Your poem (or poems) must be submitted to the Mothers Day contest by 11:59 Eastern Standard Time on Sunday, May 8
Your poem must be an original (please write your own poem!)
You can write any type of Mother's Day poem you like. Happy, sad, inspirational, funny- any kind of poems for Mothers Day will do! Any style is acceptable as well. Just make sure it is at least 20 words.
Be creative! Your poem could make a very special, one-of-a-kind gift for your Mom this Mother's Day!
A winner will be chosen at random to receive a $20.00 Amazon gift card! The winner will be selected and notified on Monday, May 9. Please be sure to provide accurate contact information so that we can get in touch with you if you are the randomly selected winner! If you are the winner, we will share your poem on our Facebook page with your permission. Fill out your poem in the box below:
[gravityform id="1″ title="true" description="true"]
To help you start thinking about what to write in your Mother Day poem (or poems), we have some suggested some poems for Mothers Day for you to check out. Below, you will find some beautiful Mother's Day poems. You will also find links to websites that contain a variety of poems that are inspiring and should help get your creative juices flowing!
For a variety of happy Mothers Day poems, check out this website. It is full of sweet and joyful poems that would make any mom smile and feel very loved.
Here is a beautiful poem by Carol Matthews entitled "Mothers Day"
A Mother loves right from the start.
She holds her baby close to her heart.
The bond that grows will never falter.
Her love is so strong it will never alter.
A Mother gives never ending Love.
She never feels that she has given enough.
For you she will always do her best.
Constantly working, there's no time to rest.
A Mother is there when things go wrong.
A hug and a kiss to help us along.
Always there when we need her near.
Gently wipes our eyes when we shed a tear.
So on this day shower your Mother with Love.
Gifts and presents are nice but that is not enough.
Give your Mother a day to have some peace of mind.
Be gentle, be good, be helpful, be kind.
Happy Mothers Day.
Here are some short mothers day poems that may be brief, but they all have meaningful messages.
Looking for some funny mothers day poems for inspiration? Be sure to check out this website. It has a variety of laugh-out-loud funny poems for moms!
If you want to check out some mothers day poems in Spanish, this website is a great and extremely helpful resource!
If you need ideas for mothers day poems from daughter, check out this website. It has a variety of sweet poems from a daughter to her mother.
If you are looking for specific tips for writing your mothers day poems, we even have suggestions and info about how to write a poem! Here are some of the different types poems you could write:
haiku, free verse, sonnets, tanka, etc.
-One Japanese form of poetry known as a Tanka could be a good option. Tanka poems contain 31 syllables and follow a 5-7-5-7-7- pattern.
-A Haiku is another ancient form of Japanese poetry. It consists of seven syllables and is typically used when writing a poem about nature.
-One open form of poetry is known as free verse. It is written to follow natural speech patterns and rhythms. Unlike many other forms of poetry, it does not contain specific patterns or rhymes.
-A sonnet consists of 14 lines of poetry that express a thought or an idea. Each of the 14 lines are 10 syllables in length. Sonnets usually contain a formal rhyme. The 14 lines of a sonnet can be broken down into four sections known as quatrains.
-You could also write an ABC poem. This type of poem consists of four lines that begin with letters that are in alphabetical order. However, the fifth line and beyond can begin with any letter. For example you could write,
Finest of days are always spent with my mother
Grateful am I that she was chosen to be my mom
Happy are we when we are together
I know she loves me because of her actions and words
Kind and gentle, loving and loyal is my mom
Never has a better mother existed
She may just be one mom to the world, but to me she means the world
-If you enjoy the challenge of writing a poem that rhymes, consider trying to write a limerick! This type of poem has a distinct form of rhyming. The rhyming form is AABBA. A limerick poem consists of several lines that are longer than others. The first, second, and fifth lines should rhyme and should be slightly longer than the third and forth lines.
Now, you have all the information you need about this giveaway and about common types of poems. Be sure to share this poem contest with your friends! Happy writing, and good luck!