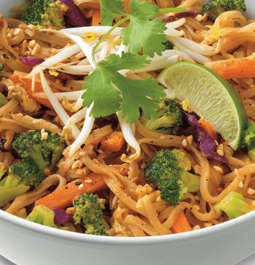 Happy leap day! Leap days happen only once every 4 years, so today is a special day. We will not have another leap day until 2020! Some restaurants and shops are offering specials and deals in celebration of this day. If you are one of those special individuals who were born on February 29, there are special deals just for you today! Noodles and Company is one of the restaurants offering a special to all their customers. They offer coupons from time to time, so be sure to take advantage of this one! Today, you can save money on your online meal purchase when you use a Noodles and Company coupons code at check out. If you spend $10.00 or more on a meal, you can save $4.00 by entering the coupon code LEAPTHELINE at check out. This deal is only valid today in celebration of the special leap day. Plus, as the discount code implies, you get to leap the line and get your food as soon as you are ready to pick it up! No need to wait in line for food tonight.
If you really love Noodles and Company's food and you love discounts, deals, and coupons, be sure to sign up for their Eclub! When you sign up, you will receive Noodles & Company restaurant coupons, info on the latest deals, giveaways, special invitations, news, and much more. Register for your account and provide info about yourself and your family. You will get information tailored to your location, favorite menu items, and more. You will receive your discounts, coupons, news, and latest info via your email address. You can also check websites such as RetailMeNot.com or the Noodles and Company Facebook page for additional coupons and deals. As we mentioned above, Noodles & Co. coupons are not always available, so be sure to use them whenever they become accessible.
Post Footer automatically generated by Add Post Footer Plugin for wordpress.