A week has passed since we celebrated the New Year, and made our resolutions. I have several on my checklist, and have yet to even make a mark in any of them…yikes! So, as we dive into our second week of the New Year, I want to tell you about a new product that I am using to help me lose weight. Thanks to a company called Yum Yum Dishes, I no longer have to worry about dieting; instead I practice portion control.
About Yum Yum Dishes
The Yum Yum Dish is for using to enjoy your favorite snacks. It helps remind you when you're all done! "Buy it in a bag, but eat it out of a Yum Yum Dish!" 
The Product ~ 4 oz Yum Yum Bowl w/plastic lid

For this particular review, I received a Yum Yum Bowl (which comes with a plastic lid). A set of 4 bowls costs $24.00. In a German magazine this summer, Halle Berry declared she's not dieting anymore; she's simply watching her portions and her favorite tool is Yum Yum Dishes, 4-ounce bowls that say, "Yum Yum Time is…" on the rim and "Over" at the bottom of the bowl.
Did you know that a typical restaurant dinner plate is 11 to 13 inches? Dinner plates in your own home probably measure about the same, making it a lot easier to over-serve and over-eat your meals.
In keeping with the "all indulgences in moderation" theme established by Tracy Adler, Yum Yum Dishes™ and Tracy have created the 9Plate. This is a 9 inch dinner plate will help you eat correctly sized portions for all meals.
The 9Plate is the perfect size plate for anyone who wants to eat correctly sized portions. The plates are also sectioned and labeled for Protein, Carbs and Veggies to help you eat the correct portions.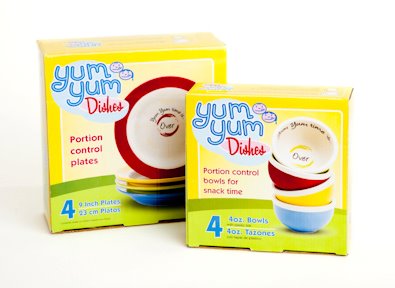 Both of these great designs (the bowls and plates) come in pre-boxed sets in our four fun colors: cherry red, sunshine yellow, pistachio green and bold blue.
My Thoughts
I absolutely love my Yum Yum bowl that I received…its small enough to give me that snack indulgence that I have been craving – whether it be candy, chips or fruit…everything is okay, as long as you control how much you eat.
As a stay at home mom, I find myself eating an entire bag of chips…but now I am finding myself pouring a small bowl and stopping when my Yum Yum bowl says my snack time is "over".  And, it comes in very handy for my girls…who LOVE to snack more than I do.
The ceramic plates and bowls are perfect for children, teens and adults who want to enjoy all their favorite foods in moderation… especially those making healthy eating New Year's Resolutions. I would highly recommend every family buying these products! You can still enjoy what you like to eat, and live a healthier lifestyle like you always wanted.
Exclusive Coupon Offer
Want to start controlling your portions with Yum Yum Dishes? Then be sure to use the following coupon code: FAB20 (all caps) and get 20% off your entire Yum Yum order until January 24th, 2012.
To learn more about YumYum Dishes, you can visit their website, watch videos on YouTube, like them on Facebook and/or follow on Twitter.  
Post published by Melissa Roach, our Product Review & Giveaway Specialist.
Melissa is a Full Time Mom & Blogger
HERE
(please check out her blog!)
I received one of the products mentioned above for free. Regardless, I only recommend products or services I use personally and believe will be good for my readers.