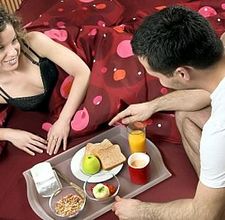 Valentine's Day is a little over a week away. If you and your significant other have not already made special plans or purchased Valentine's Day gifts, it is okay! You still have time left to plan a romantic getaway, and we have special weekend getaway ideas for you. Whether you are looking for Bed and Breakfast deals or romantic getaways in California, we have recommendations on websites you can check out to help your plan your special weekend. These websites will help you find the best, most affordable getaway packages and deals.
Check out BBOnline for information on countless Valentine's getaway packages throughout the country. You can search for Bed and Breakfast locations and deals by state or even by city. Just be sure to make your reservations soon!
If you live in or near Wisconsin, be sure to check out this list of Valentine's Day getaway specials at Bed and Breakfasts. All of the Bed and Breakfasts on this list are located in Wisconsin. These getaway deals truly are specials- many include, flowers, chocolates, wine or champagne, as well as other features sure to guarantee a romantic experience!
Select Registry is another website that can help you find affordable Valentine's getaway ideas. There are many different Bed and Breakfasts and Inns to choose from. Also, new deals are added frequently.
If you want to save even more money on your romantic getaway while completely customizing it to your likes and tastes, check out HomeAway.com For an extremely reasonable price, you can rent a house, a small cabin, or whatever you find that you like. Bring your own special Valentine's Day decor, food, and beverages and save yourself some money!
If you are up for a spur-of-the-moment trip and want to save a great deal of money, you can check out websites such as Orbitz or Expedia. There, you can get great deals on hotel and travel at the last minute for a low cost.