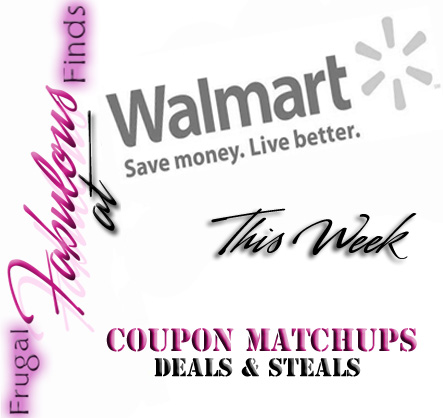 If you frequently shop at Walmart, this post will certainly be helpful to you! Today, we have gathered up some of the best Walmart coupons matchups currently out there. These coupons and deals will help you save BIG on your next Walmart purchases. Before you head out to your local Walmart, please remember a few things about matchups.
Walmart price matches. If an item is cheaper at your local grocery store, you can get the discounted price at Walmart just by showing the ad with the grocery store price on it. Walmart will honor the lower price, you just have to show them.
Keep in mind that there could be some price differences from one Walmart store to the next. Although it is one company, prices may differ. When in doubt, check around to ensure you are getting the lowest price.
You may want to check the prices at other local stores. As we mentioned above, Walmart will honor lower prices has long as you can provide proof that the price is lower at another store.
Consider printing out (and familiarizing yourself with) the Walmart coupon policy form. If you have difficulty using a coupon or multiple coupons, you can show Walmart employees (or even a manager) the coupon policies. It can be very helpful to have this policy form on hand.
Check out the coupon booklets that come in the mail and in your local paper. Some of these coupons can be paired with other deals that will give you even greater savings on your purchases.
A Walmart supervisor or manager will have to check over your purchases if any of the following occurs:
You use four or more like coupons per transaction.
 You use a coupon valued at $5 or more
You use $50 or more in coupons within one sales transaction
You use coupons totaling a percentage off the total sale
If you would like to look for your own coupons and matchups, we recommend that you check out the following websites: Coupons.com, SavingStar.com, Redplum.com, and SmartSource.com. If there is a particular product you want to purchase, you can check out the website for that product. Oftentimes, you will find a coupon for that product on the website. Manufacturer's coupons are great because they are almost always accepted by stores. You can sometimes run into trouble when you print coupons at home from secondary sources.in some instances, those types of coupons may be rejected.
Product or brand Facebook pages or twitter pages also post coupons quite often. For example, if you visit the Heintz products Facebook page, you may be able to find money saving coupons. Some companies may even post coupon codes or coupons on their Instagram accounts. It does not hurt to check around!
Google searches can also be helpful when you want a coupon for a specific product or brand. Walmart even offers their own coupons on their website. As we mentioned above, you should carefully read through the Walmart coupon policy before you attempt to stack coupons and pair matchups. Like other companies, Walmart has certain rules and restrictions on coupons. It is good to be familiar with those policies before you go shopping with a stack of coupons that overlap.
Here is a little bit of information about the types of coupons Walmart does not accept:
Checkout coupons
Dollars or cents off the entire cost of your purchase
Percentage off the entire cost of your purchase
"No purchase necessary" print-at-home internet coupons
Competitors' coupons (that earn dollars or cents off at a specific retail store, provide a percentage off, are buy one, get one free (BOGO) coupons that do not have a set price, double or triple value coupons)
If you print your coupons at home, please remember that in order to be accepted by Walmart, the coupons must have a bar code that can be scanned, the coupons must be decipherable, they must have an specific expiration date, they must be originals (not a duplication), they may be printed in color or black and white, and they must have a valid remit address for the manufacturer.
Check out these awesome Current Walmart Coupons, Walmart Deals, and Matchups!!
Use $2.00/1 coupon– Any Breathe Right Strips (coupons.com)
Final Price: You earn $1.03 back in your pocket!
Use $1.00/1 coupon – Can be applied to Snickers Ice Cream Bars, Twix Ice Cream Bars, M&M's Ice Cream Bars, Milky Way Ice Cream Bars or Dovebar Ice Cream Multi-Packs, 3-6 ct (coupons.com)
Final Price: $2.24
Use $3.00/1 coupon – Hormel Cure 81 Cherrywood Bone-In Spiral Ham, (coupons.com)
Final Price: $9.40
Use $1.00/1 coupon– Pampers Wipes 168 count or higher (coupons.com)
Final Price: $4.97
Use $1.00/1 coupon– So Delicious Dairy Free product (coupons.com)
And submit $1.00/1 coupon – So Delicious Dairy Free Coconut Milk Creamer, via rebate app (checkout51.com)
Pay $0.98, Submit rebate for $1.00 Checkout 51 Credit
Final Price: You earn $0.02 back in your pocket!
Use $1.50/1 coupon– Birds Eye Steamfresh Flavor Full Variety from SS 1/10
Final Price: $0.24
Use $1.00/1 coupon– Challenge Cream Cheese, (coupons.com)
Final Price: $1.04
Use $0.75/1 coupon– French Classic Yellow Mustard (coupons.com)
Final Price: $0.81
Use $1.00/1 coupon– Farm Rich Snack 14 oz or larger (coupons.com)
Final Price: $3.98
Use $1.00/4 coupon– JELL-O Gelatin, No Bake, or Pudding (coupons.com)
Final Price: $0.41 each, when you buy 4 products
Use $1.00/1 coupon – Snickers Brand, Twix Brand, M&M's Brand, Milky Way Brand or Dovebar Ice Cream Multi-Packs, 3-6 ct (coupons.com)
Final Price: $2.24
Use $0.50/1 coupon – Juicy Fruit Slim Pack Gum (coupons.com)
Final Price: $0.46
Use $1.00/1 coupon – Tropicana Pure Premium and other Tropicana Orange Juice varieties, 59 oz (tropicana.com)
Final Price: $2.00
Use $0.50/1 coupon – Boogie Wipes (boogiewipes.com)
Final Price: $3.47
Use $2.00/1 coupon – Gillette Venus Disposable, 2 count or larger OR Daisy, 4 count or larger on 1/17
Final Price: $2.89
Use $3.00/1 coupon – CeraVe Product on 1/10
Or $2.00/1 coupon– CeraVe Product (cerave.com) (trial size excluded)
Final Price: $1.97
Use $2.00/1 coupon – Garnier Sleek and Shine Shampoo, Conditioner or Treatment on 1/10
Final Price: $0.50
Use $4.00/1 coupon– Centrum VitaMints, 60 count or larger on 1/3
Final Price: $2.76
, regular price

P&G Everyday
Use $2.00/1 coupon– Tide Laundry Detergent OR Gain Laundry Detergent on 1/24
Final Price: $3.24
Use $1.50/1 coupon– Pledge Floor Care product (coupons.com)
Final Price: $2.97
Use $0.50/1 coupon – Wet n Wild Product on 1/17
Final Price: $0.43